Ridgeway School steps forward to the future of Education!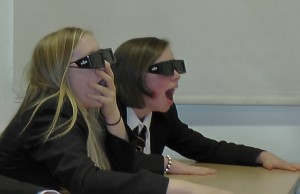 Ridgeway school is one of the UK schools that has recently been involved in a pilot project of Gaia 3D.
Specialising in Science and Maths, the school's work to support children at every stage of their educational journey has been described as outstanding by Ofsted.
Working alongside the Gaia Team, Jim Strachan the Assistant Head of Geography, was able to implement the software in the school and  teach the school's first lesson in 3D. Lucky Year 9 students were the first to witness learning being brought to life.
As published in the local newspaper Plympton, Plymstock and Ivybridge News:
"RIDGEWAY students take a step into the future of education as geography gets a 3D makeover!"
"After donning the 3D glasses, the class were taught plate tectonics by Mr Strachan, but instead of old-fashioned 2D diagrams, the     students were immersed in virtual representations of earthquakes and volcanoes while being taught what happens at destructive plate boundaries and how to make a building earthquake-proof."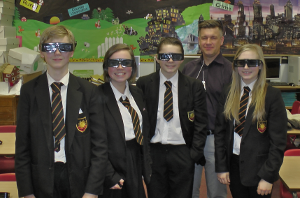 In the words of the students, being able to manipulate and interact with the planet's structure "made the subject come to life and jump off the board…literally".
Mr Strachan said: "Gaia 3D is at the cutting edge of Education so it was a huge honour to have them visit our school."
"It was a fantastic experience and we can't wait until we can use it every day!"
Click HERE to request your free trial of Gaia 3D and join us in a fascinating world of 21st Century Learning.